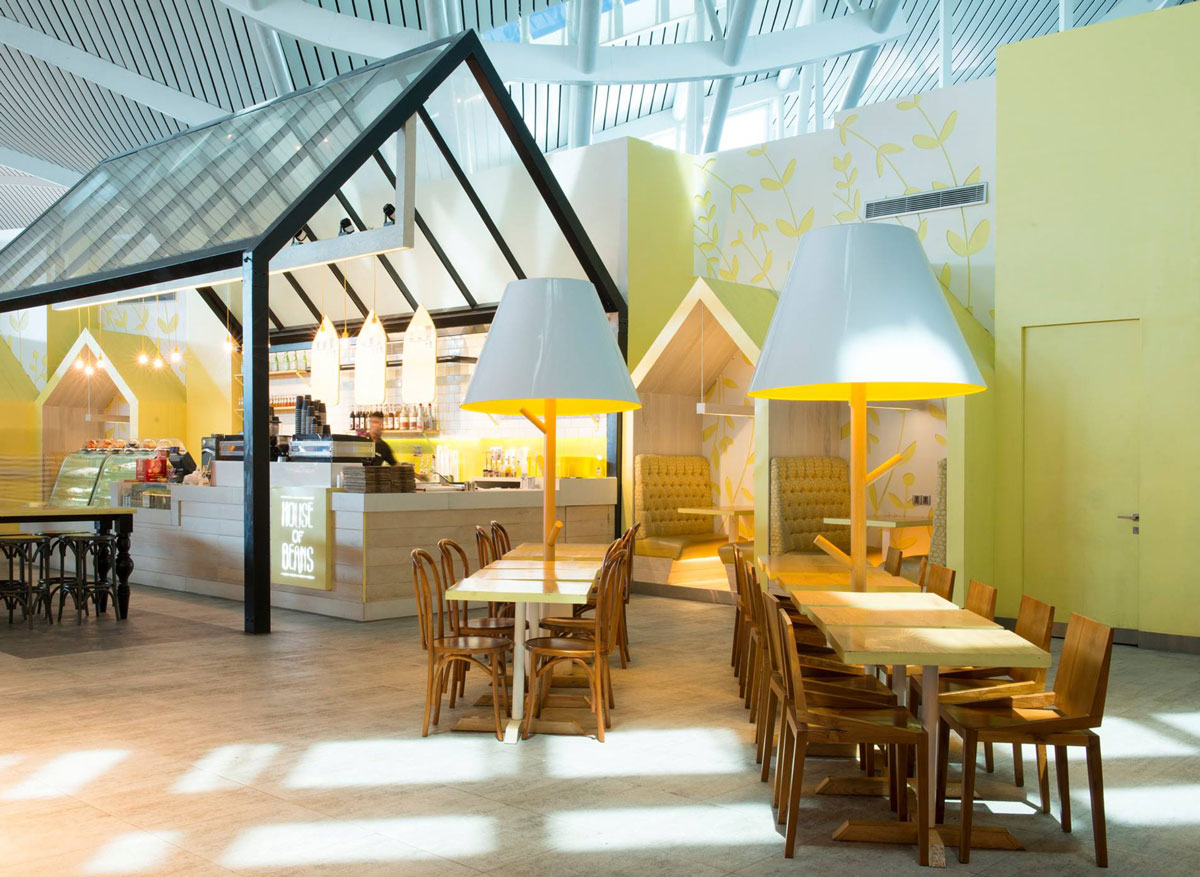 "The vibrant signature elements deliver a strong drawcard for passengers as they approach."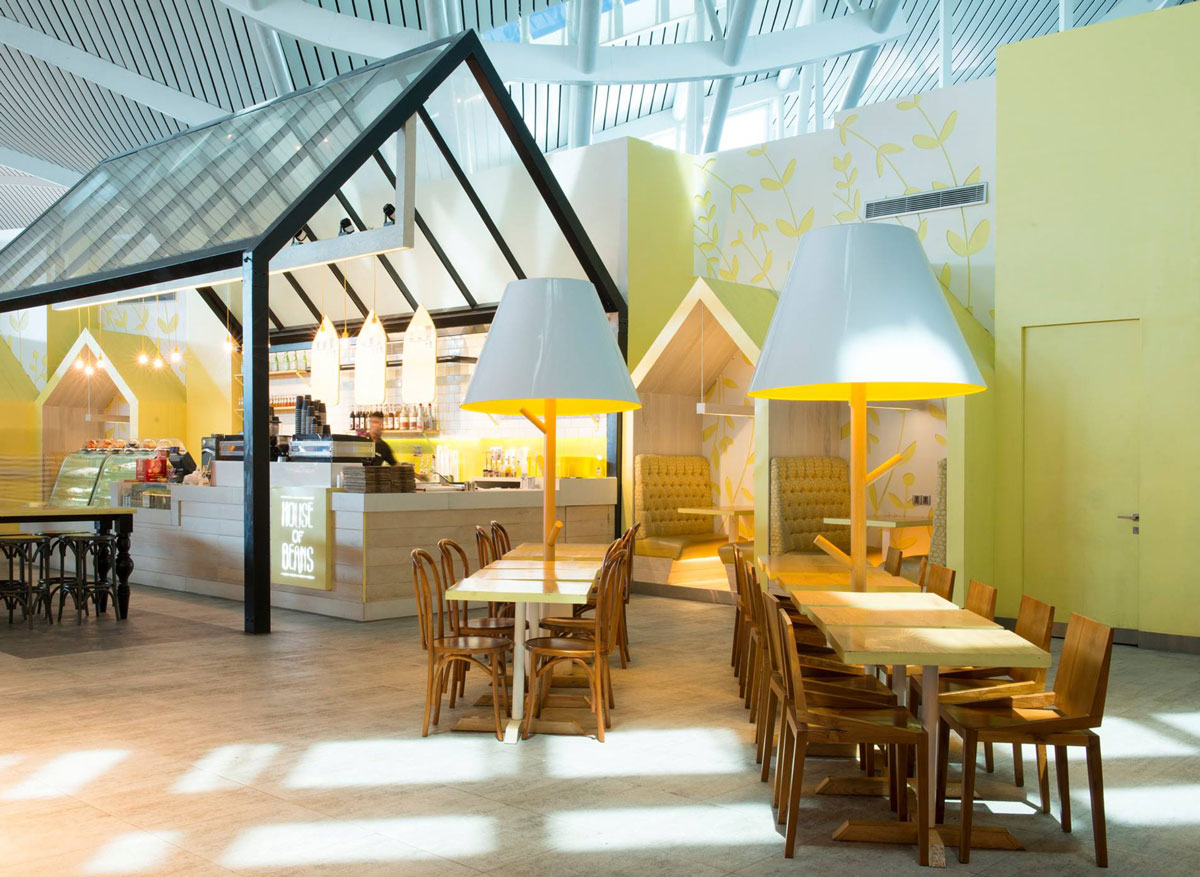 "The vibrant signature elements deliver a strong drawcard for passengers as they approach."
our services: concept design, ff&e, graphic design, construction documentation
location: International & Domestic Terminals at Denpasar Airport, Indonesia
size: 300sqm & 200sqm
completed: June 2014
Whilst the coffee bean is the hero in the House of Beans – this is a vibrant and playful brand offer. The fitout offers an uplifting environment that stands out in the terminal as weary departing passengers are looking for place to rest as they await their flight.
The International Terminal was the first iteration of this new brand, developed uniquely for HMS Host. The design has created a strong sense of place in the lofty volume of the open terminal, whilst the counter is the focus for sales, patrons flock to the small houses to enjoy their meal. The brand's signature yellow house logo is expressed in the row of small houses formed as seating booths.
A yellow & white vine pattern provides a distinctive background to create a language for wall surfaces, menus & packaging alike.
The second installation of the brand lies within the new Domestic Terminal. In this instance the brand design was adapted to a low ceiling tenancy and concourse. The vibrant signature elements deliver a strong drawcard for passengers as they approach. The food & drink counter is located in the traffic flow, whilst the small houses again provide an irresistible haven for the waiting passengers.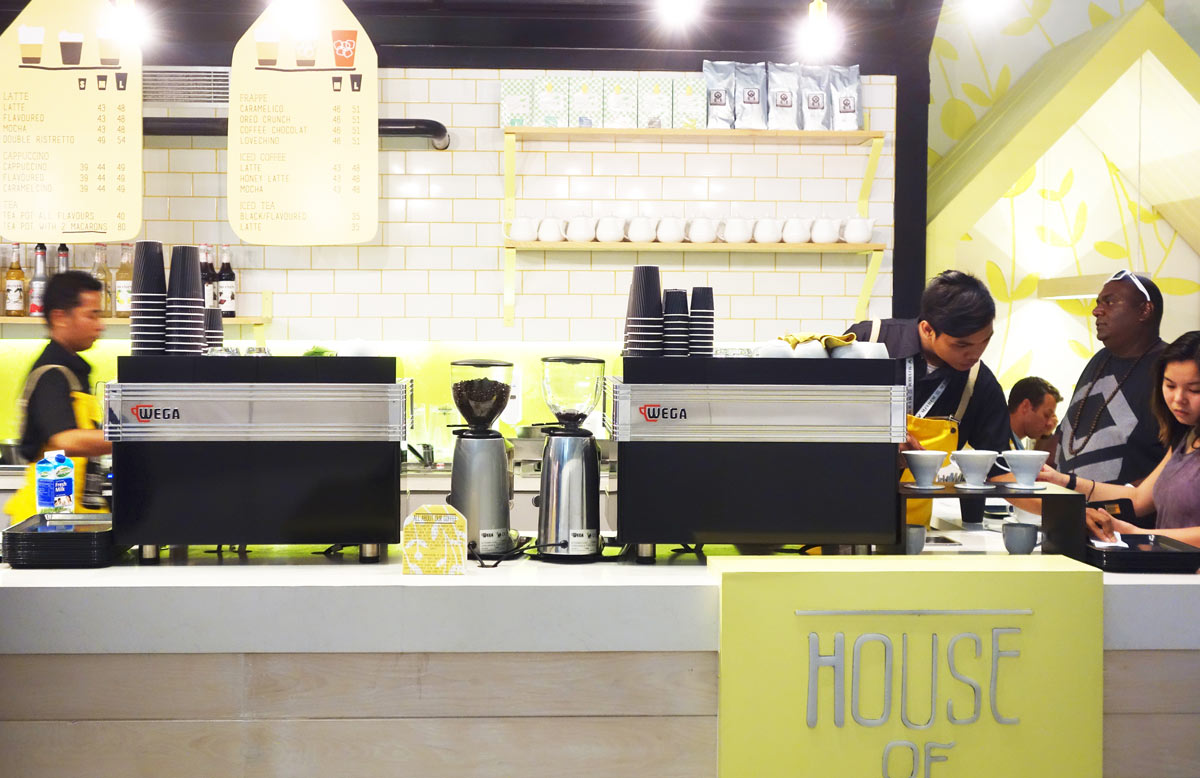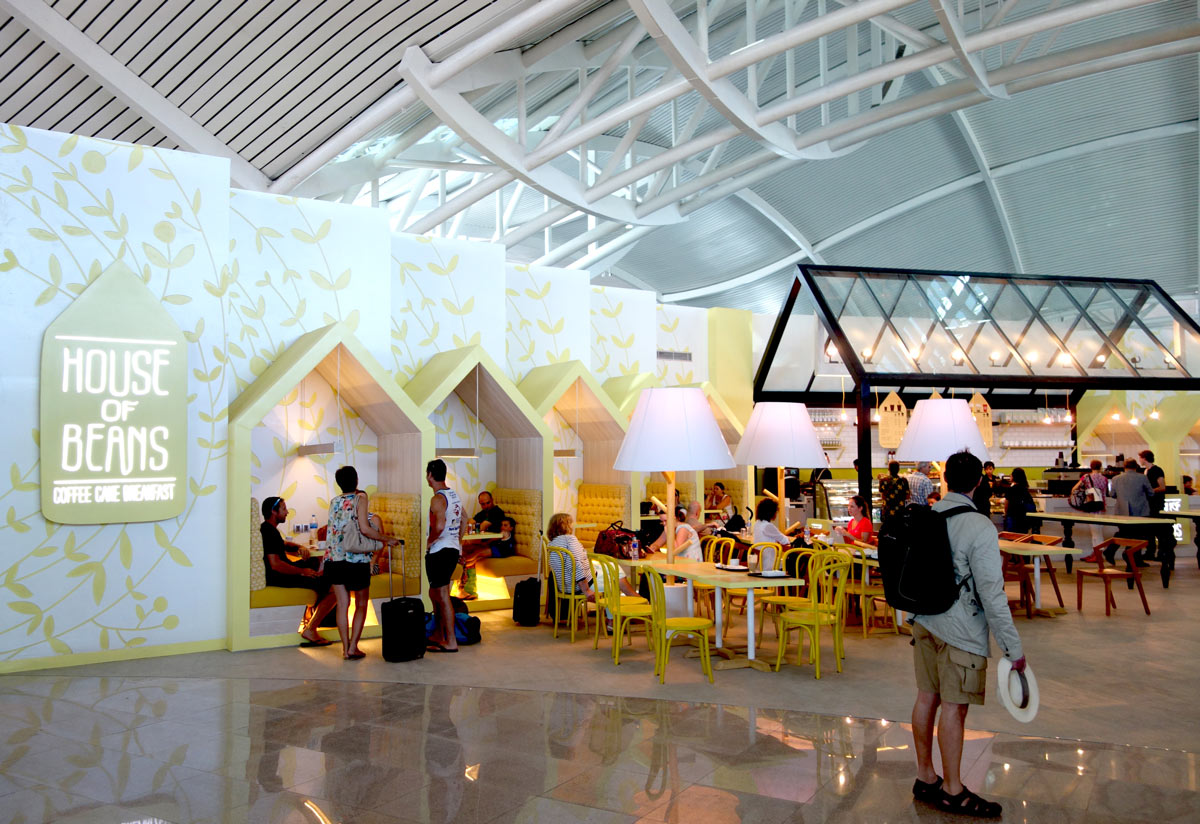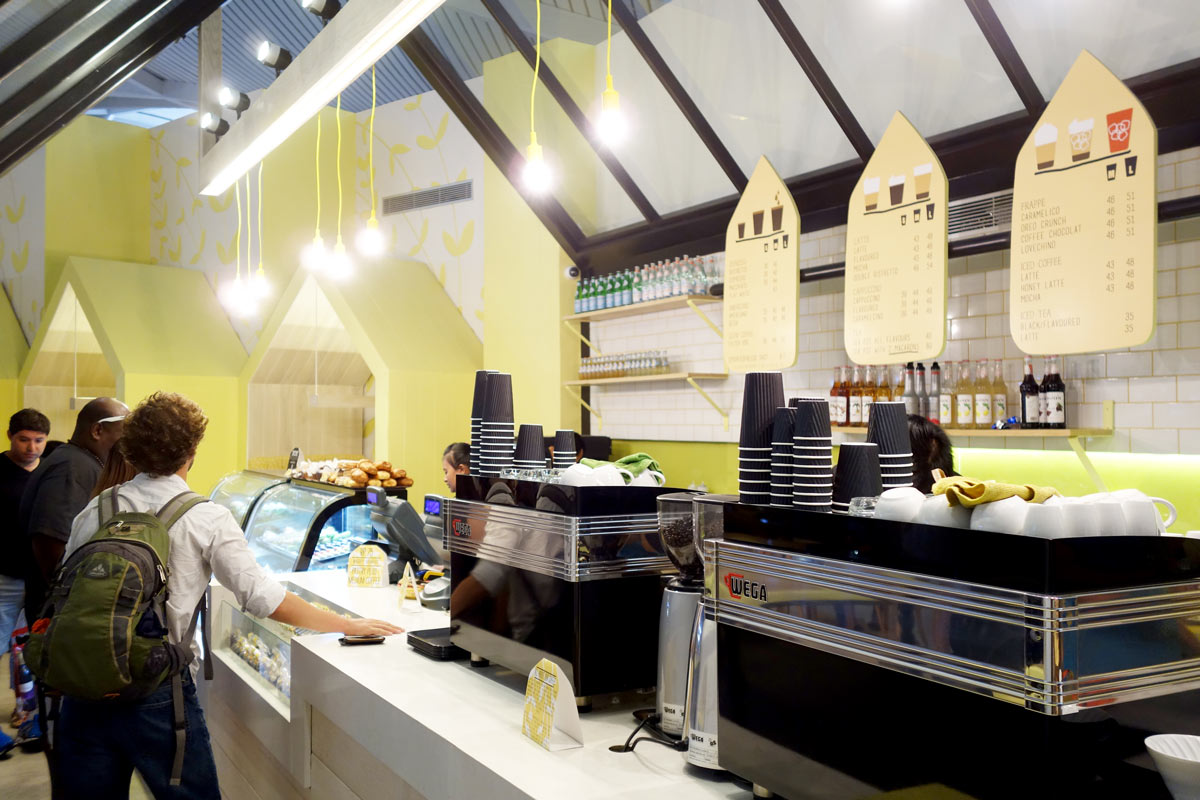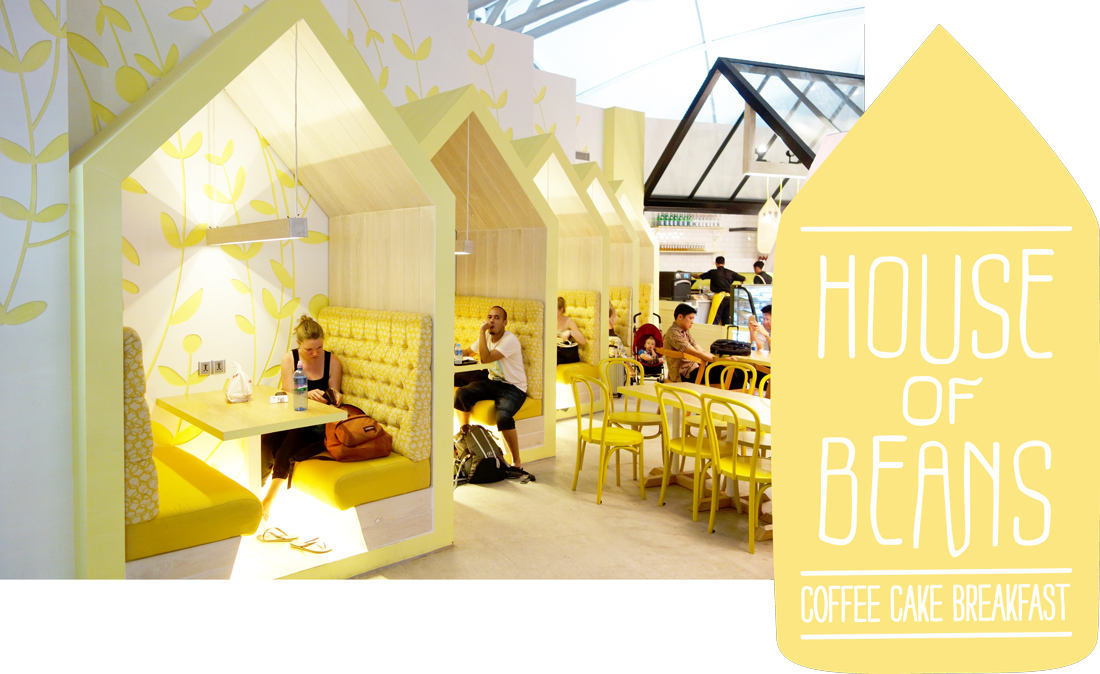 Last Wave is the anchor restaurant & bar offer in the International terminal, aimed clearly at the middle ground for the relaxed holiday makers on their way home from the beach – sun bleached, light & fresh.
Myriad was invited to prepare a design tender to create a bespoke bar in the new airport. We were naturally excited by the success of the bid against international competition. The concept draws influence from a local palette of materials & a hand crafted quality.
It was time for Mika to move from chef to proprietor with the opening of his first bakery in the new precinct at Smithfield SC.  He had a name and a passion for baking, so now it was time to design a kitchen, servery and café that would befit the daily fresh goods.